Korea Newswire is a leading provider of press release distribution service in Korea. We help large, small and medium-sized companies and PR agencies disseminate their news releases to thousands of news media, Internet portals across Korea and around the world.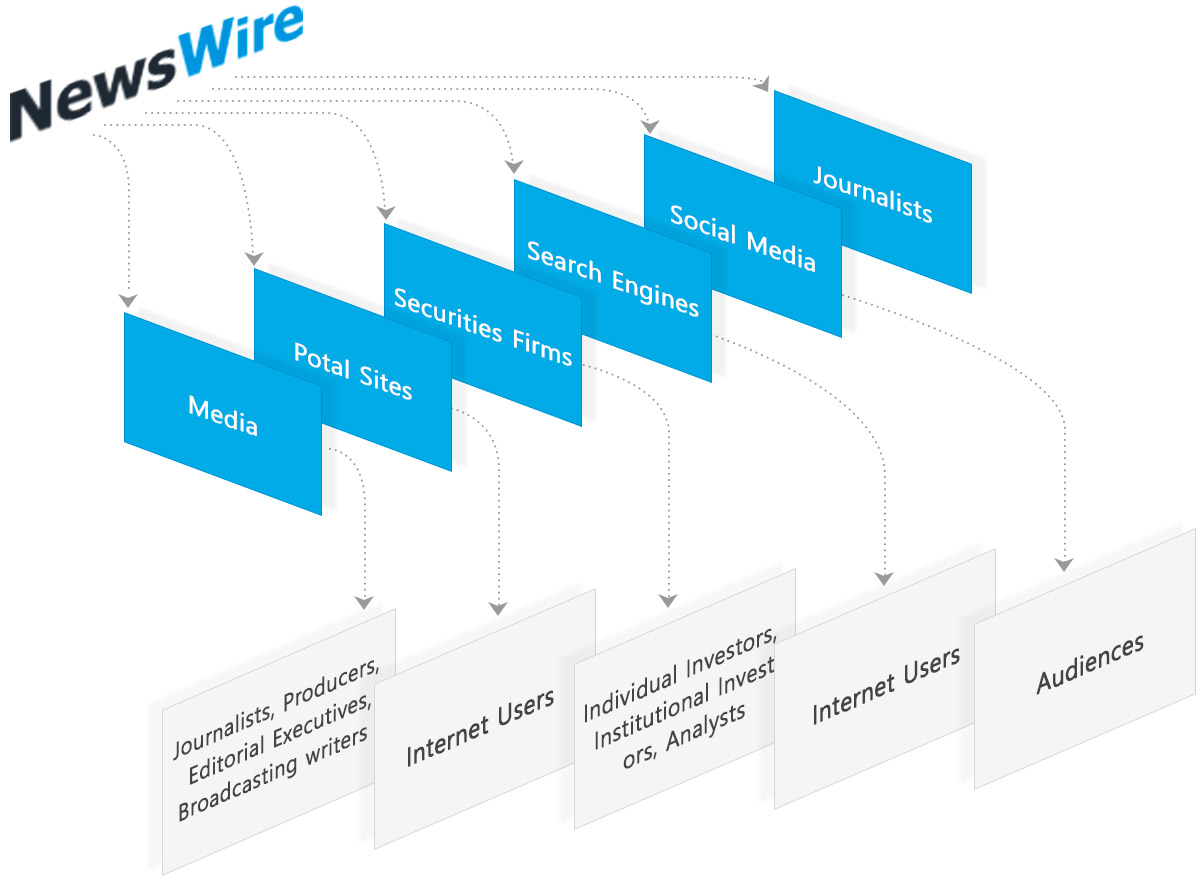 Korea Newswire is the first company to distribute the press release online in Korea. It was established in July 2004 by Mr. Dongho Shin, a journalist and marketing specialist and is headquartered in the city center of Seoul. Since the foundation of Korea Newswire, more than 36,000 Korean companies, organizations and PR agencies used our online press release distribution service to announce their news and gained recognition through powerful media exposure.
Korea Newswire distributes press releases to 7,000 Korean media everyday including major Korean daily newspapers and search engines such as Google, Naver, Zum, Chosun Daily, Donga Daily, Korea Economic Daily, SBS, CBS, and MBC.
Today, more than 34,000 Korean journalists are making their news and contents using our press releases and 149 media partners are posting our press releases on their websites every minute. We distribute press releases to media and journalists in various forms including email, RSS, mobile web, mobile apps, XML, FTP, virtual hosting, widget, social media posting and SEO etc.
Launching Korean website (newswire.co.kr) in 2004, Korea Newswire began press releases distribution service and launched English website (koreanewswire.co.kr) in 2007. In succession, we began global distribution service in 2009.
Korea Newswire is a global distribution channel that connects Korean companies with 162 countries around the globe. Partnering with Business Wire, we distribute overseas companies and PR agencies' press releases to Korean media and search engines, and at the same time, we distribute Korean companies and PR firms' press releases to 100,000 global news media including AP, Yahoo, Google News, New York Times, Dow Jones, The Wall Street Journal, Bloomberg, Lexis-Nexis and Factiva.
Furthermore, to support organizations to prepare their press materials more efficiently, we provide translation service to 100 languages including Korean, English, Chinese, Japanese, Spanish with our global partners.
If you need more information about our services or want to be a partner, feel free to contact us.
Tel: 82-2-737-3600
office: 04516 6F Baejaejeong-dong Building A, 19, Seosomun-ro 11-gil, Jung-gu, Seoul, Republic of Korea