Feb 01, 2017 16:08 Asia/Seoul Time Zone
Daemyung Optical to exhibit at global optic fair in SIOF and MIDO 2017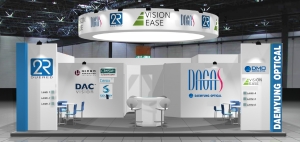 DMO booth in MIDO 2017 (25th~27th. February, Booth No. Hall3, F19)
DAEJEON, SOUTH KOREA--(Korea Newswire) February 1, 2017 -- Daemyung Optical Co., Ltd. announced that it will be exhibiting at the International Eyewear Show MIDO 2017, which will be held in Fieramilano Rho-Pero Pavilions, Milan, Italy, from Feb. 25th to 27th, starting from February 15th to 17th in Shanghai, China (DDMO booth location: 1P38, 1S43).
In particular, Daemyung Optical Co., Ltd. will install a 100 square meter exhibition booth, which is the largest scale in the history of the event, at the center of the exhibition hall (Hall 3, F19) Zone with VIP zone, and will exhibit more than 30 types of lenses.
Daemyung Optics participating in the Shanghai exhibition is planning to catch the eye of the customers who have arranged the most various events during the exhibition.
Daemyung Optical will raise our pride as a quality company recognized by the Korea International Trade Association and continue to spread our reputation in the world market.
Through SIOF and MIDO exhibition, Daemyung Optical will have a lot of opportunities to meet foreign buyers and stand tall as a true global champion for eyeglass lens.
Media Contact
Daemyung Optical
Markeing Team
JY Lee
+82-42-939-1045
+82-10-5182-0654
jylee@dmo.co.kr
Korea Newswire distributes press releases to thousands of news media, internet portals across Korea and around the world.
submit a press release »