Aug 29, 2016 12:44 Asia/Seoul Time Zone
Nature & Future Inc. Launches Eco-Friendly Organic Farming Materials in Southeast Asian Markets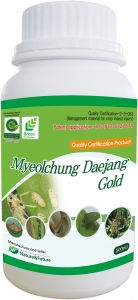 GOKSEONG, SOUTH KOREA--(Korea Newswire) August 29, 2016 -- Nature & Future Inc. (CEO: Mae-ho Park) (
www.nfagro.co.kr
), an innovative Korean company specializing in eco-friendly organic farming materials, is entering Southeast Asian markets with a wide array of organic products, including "MyeolchungDaejang Gold," a Green Technology product for control of chestnut pests.
"MyeolchungDaejang Gold" is the first of its kind in Korea to win Green Technology quality certification from the government. Its outstanding quality was recognized by two Korean cities, Gwangyang and Suncheon, which decided to use it this year to protect their chestnut trees from insects and disease pests.
"MyeolchungDaejang Gold" is an eco-friendly organic farming material that is effective in controlling pests like aphids that affect trees around you - trees in your garden, neighborhood, and parks. While synthetic chemicals cause serious damage to the ecosystem, "MyeolchungDaejang Gold" minimizes damage to animals, including humans, plants, the soil and the ecosystem. It is a truly innovative product.
Nature & Future offers a wide range of products, including eco-friendly insecticides for greenhouse cultivation and gardening, such as "GreenPosu," "Ssagri" and"Ssajaba"; environment-friendly germicides such as "Gyunbai," "Gyungara," and "MundoDaejang Gold"; and functional nutrient products "Ppurisen," "Masiwang," "Cheonheyone," and "NF Hyosoplus Gold."
The company's CEO Mae-ho Park says, "Our mission is to contribute to the production of foods that are safe to eat. We carry out our mission by developing organic farming materials that protect crops from pests in an eco-friendly way." Park adds, "We are planning to actively introduce our products in foreign markets."
News Source: Nature & Future
Korea Newswire distributes press releases to thousands of news media, internet portals across Korea and around the world.
submit a press release »