Aug 17, 2016 12:43 Asia/Seoul Time Zone
The 8th DMZ International Documentary Film Festival Announces its Opening Film and Honorary Ambassadors
It selects 'One Warm Spring Day' as Opening Film, names Kang Ha-neul and Gong Seung-yeon Honorary Ambassadors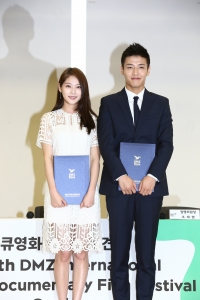 Kang Ha-neul and Gong Seung-yeon, Honorary Ambassadors of The 8th DMZ International Documentary Film Festival at press conference
SEOUL, SOUTH KOREA--(Korea Newswire) August 17, 2016 -- The 8th DMZ International Documentary Film Festival (DMZ Docs), which is to open on Sept. 22, announced today the opening film and festival program in a news conference at Business Division of KEB Hana Bank in Eulji-ro, Seoul. It also named actor Kang Ha-neul and actress Gong Seung-yeon honorary ambassadors.
More than 100 Korean and foreign journalists attended the news conference, reflecting high media attention to this year's event. They were briefed by Lee Jae-yul, deputy governor of Gyeonggi Province; Cho Jae-hyun, executive director of the festival; and programmer Park Hyemi.
'One Warm Spring Day' chosen as opening film
'One Warm Spring Day' is the first feature-length documentary film of director Chung Su-eun. Its selection as the opening film is meaningful, as it was produced with the financial support the DMZ Docs Funding to Chung, who was picked as a promising young documentary director last year.
The director of the film focuses on the tragic life of his grandfather, who was a soldier of the North Korean People's Army. He traces the footsteps of his grandfather to show how he became a prisoner of war, why he had to choose to stay in South Korea even though his family was in the North, and why he decided to take his own life.
The journey in search of the fragmented life of his grandfather carries multiple meanings. Through it, the director exposes and confronts an old family wound. He also offers us a look at the tragic chapter of the nation's history. At the same time, he records and remembers the stories of people who had to live painful, marginalized lives as 'prisoners of war.'
'One Warm Spring Day' is a perfect choice as the opening film of the DMZ Docs, which is held at Camp Greaves near the Demilitarized Zone, as it narrates the life of a man who was on the forefront of the tragic territorial division of the Korean Peninsula.
'DMZ Vision' section newly created to bolster identity of DMZ Docs
DMZ DOCs has created its identity by combining the two disparate concepts of 'DMZ' and 'documentaries.' It has established itself as a unique documentary film festival by interpreting the DMZ, which is a symbol of territorial division and animosity, as a space for 'communication, peace and life.' This year, the organizing committee has created the "DMZ Vision" section to introduce films that seek to offer visions for the reunification of the Korean Peninsula by healing the trauma of colonialism, territorial division and family separation.
Special event showcases documentaries on 'comfort women'
This year's DMZ DOCs will give a rare opportunity to watch documentary films from Japan, China and Taiwan that focus on the so-called "comfort women," young women who were forced into sexual slavery by the Imperial Japanese Army before and during World War II. These films give the victims an opportunity to have their voices heard. They also show that Korea was not the only country in Asia where women suffered violence during wartime.
DMZ Docs seeks to expand base for documentary films
One notable section of the festival is 'Docu Choice,' where experts in diverse cultural fields participate as curators. This year, Japanese historian Takeshi Fujii, Korean indie female singer/songwriter Yozoh and art critic Geun-jun Lim will introduce interesting films on history, the fine arts and bookstores.
The 'Docu Family' section, which introduces documentaries the whole family can watch together, will present short documentaries for children, teens and beginners in documentary films. This year, 14 barrier-free films will screen for people with visual impairments and toddlers.
Record number of entries submitted;
Festival's support for film production bears fruit
Deputy Gyeonggi Governor Lee Jae-yul says he is delighted to announce that a total of 1,290 films have been submitted from 105 countries, the largest number ever. "This is a testament of the growing reputation of the festival among documentary film producers across the world," Lee says.
Lee also says the entries will screen not only in Goyang and Paju, the two host cities of the festival, but in Gimpo City and Yeoncheon County, making it easier for residents of north Gyeonggi Province to participate in the festival.
Cho Jae-hyun, executive director of the DMZ Docs, says he is proud that the festival's support program has begun to bear fruit. "We have been providing support to documentary film producers in Asia since 2013," Cho says. "Our efforts have started to bear fruit. Now we can present films that were produced with our support in the Global Vision and Asian Competition sections."
Actor Kang Ha-neul, actress Gong Seung-yeon named honorary ambassadors
The 8th DMZ International Documentary Film Festival has appointed Actor Kang Ha-neul and actress Gong Seung-yeon as honorary ambassadors.
Kang, an actor known for his interest in documentary films, has participated in the festival before. "I think documentary films hold enormous value and exert big influence on society. I hope people come to the festival to appreciate the value of documentary films and have fun" Kang says.
Gong says, "For me, documentary films are always a source of stimulus. I will let as many people as possible know about the documentary film festival held in the DMZ."
The 8th DMZ International Documentary Film Festival will open at Camp Greaves in the DMZ on Sept. 22 and run through Sept. 29, presenting 116 documentary films from 36 countries.
The 8th DMZ International Documentary Film Festival (DMZ Docs 2016)
Title 8th DMZ International Documentary Film Festival (DMZ Docs 2016)
Characteristics An international documentary film festival held in the DMZ, a buffer zone between the two Koreas;
A non-competitive film festival with some competition sections
Festival Dates Sept. 22-Sept. 29, 2016, for eight days
Vision To emerge as Asia's representative festival for documentary films with a theme of peace, communication and life
Scale 116 films from 36 countries;
Diverse educational programs and cultural events will be held
Venues Goyang, Paju, Gimpo cities and Yeoncheon County of Gyeonggi Province
Organizer The Organizing Committee of the DMZ International Documentary Film Festival
Host The Executive Committee of the DMZ International Documentary Film Festival
Sponsors Gyeonggi Province, Goyang City, Paju City, The Ministry of Culture, Sports and Tourism, The Korean Film Council
Homepage
www.dmzdocs.com
,
www.facebook.com/dmzdocs
※ For more information on the 8th DMZ International Documentary Film Festival, please contact its PR team at 032-623-8045 / publicity@dmzdocs.com.
Media Contact
DMZ International Documentary Film Festival Organizing Committee
PR&MARKETING MANAGER
CHOI YEO JEONG
T. +82(0)32 623 8045
publicity@dmzdocs.com
Korea Newswire distributes press releases to thousands of news media, internet portals across Korea and around the world.
submit a press release »