Dec 21, 2015 14:47 Asia/Seoul Time Zone
"Soondae" to Go Global Soon
CEO Lim Yong-Ki of "Chamjoeun Food" Releases Bloodless "Tri-Color Soondae" for Locals, Expats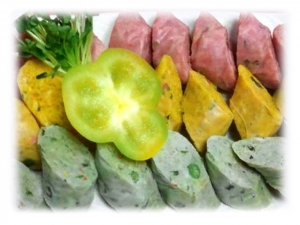 Chamjoeun Food Releases Bloodless Tri-Color Soondae
SEOUL--(Korea Newswire) December 21, 2015 -- The traditional Korean delicacy of "soondae" or Korean sausage stuffed with various ingredients has long been loved by Koreans for ages, but the bloody sausage made of pig intestines can still be seen ugly in the eyes of some foreign visitors.
However, the Korean blood sausage is becoming increasingly popular among the expats as well in recent years as more of them are getting exposed to the taste of the local Korean dishes. It can best be compared to "boudin noir," a French blood sausage due primarily to its rich taste.
For this reason a local producer of traditional hand-made Soondae has recently came up with a special "bloodlesss" Soondae called "Tri-Color Soondae."
The "Tri-Color Soondae," developed and produced by "Chamjoeun Food" in Sokcho, South Korea's Gwangwon Province, hit the local market for both locals and foreigners on Dec. 15 (Tuesday), 2015.
Unlike the dark brown color of the traditional Abai (Father) Soondae, the newly released one comes in three different colors: Pink, Yellow, and Green!
"People can enjoy not only the taste of our Soondae with mouth but also they can enjoy it with their own eyes," Mr. Lim Yong-Ki, CEO and President of "Chamjoeun Food" commented. "The neat colors are aimed for the foreign expats who abhor the dark brown color"
The new product is the so-called upgraded version of Abai (Father) Soondae and it is rich in its ingredients and clean in its taste.
As in the case of Abai one, "Tri-Color Soondae" is stuffed with sweet (glutinous) rice, fresh cabbage leaf, cabbager's dried leaf, green bean spourts, and pork.
Currently, "Tri-Color Soondae" is sold at retail price of 12,000 won per 1-kg product at the local market.
Its company is gearing up for exporting "Tri-Color Soondae" products to many countries around the world soon.
"We developed this bloodless 'Tri-Color Soondae' in cooperation with a local university in Gwangwon Province," Mr. Lim went on. "We will soon start exporting 'Tri-Color Soondae.'"
Korea Newswire distributes press releases to thousands of news media, internet portals across Korea and around the world.
submit a press release »