Sep 24, 2015 09:00 Asia/Seoul Time Zone
New Animation Puzzle Game AZZL from Jutiful Delivers Maximum "Smiles Per Minute" for Users Who Love the Beautiful & Extraordinary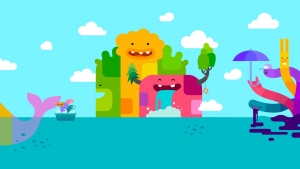 KENNESAW, GEORGIA--(Korea Newswire) September 24, 2015 -- Jutiful, the creator of REBUS - Absurd Logic Game, which earned Best App honors from Apple and Mobile App of the Day from FWA, has announced the launch of its beautiful and fun new animation puzzle game called AZZL.
Available exclusively in the App Store and optimized for iPhone and iPad, AZZL is suitable for all ages and features brilliant artwork, beautiful animation, and unique, loveable characters that promise to turn an ordinary day into one full of fun, laughs, and endless puzzle-solving joy.
"We crafted AZZL to deliver the maximum number of Smiles Per Minute allowed by law," commented a spokesperson from AZZL's fun-loving team. "We also certify that AZZL is completely gluten-free, and that no animals were harmed during the insanely long, but incredibly fun, joyful and inspiring two-year creation period".
Getting started with AZZL is simple and easy, and features several never-before-seen puzzles that according to Jutiful "are so juicy, that even a rumrit could pass". To solve each puzzle, users must tap, move, swipe, and rotate animated pieces that include squares, zigzags, waves, hexagons, triangles, circles and more. Plus as a reward, users have the opportunity to unlock an amazing secret world when they complete all levels.
Reviews from users in AZZL's beta testing group have been unanimously positive, and include comments such as: "I was amazed by the diversity of puzzles; I never thought that so many various puzzle mechanics could be crafted", and "Each cartoon is so fun that I wanted to look them over and over as a cartoon series."
Added a spokesperson from Jutiful: "In many ways, AZZL is an expression of our company's soul. We hope that people around the world fall in love with the game, and that it brightens their day whenever they need a dose of polite insanity!"
AZZL can be downloaded from the App Store at
https://itunes.apple.com/us/app/azzl/id640484311?ls=1&mt=8.
Additional game information, including screenshots, is available at
http://azzl.com
.
The AZZL press kit can also be downloaded from
http://www.azzl.com/AZZL_PressKit_EN.zip.
For all other details contact Alina Bieglova, Marketing & Communications Manager, at bieglova@jutiful.com.
About Jutiful
Established in 2012, Jutiful is an international team of "juicy app specialists" who are dedicated to creating beautiful, fun and interactive iOS and Android apps for users who love the beautiful and extrordinary. Learn more at jutiful.com, or follow the company on Facebook at
https://www.facebook.com/JutifulApps
or via Twitter @Jutiful_Apps
News Source: Jutiful
Korea Newswire distributes press releases to thousands of news media, internet portals across Korea and around the world.
submit a press release »