Jun 12, 2015 16:17 Asia/Seoul Time Zone
'Ultra Korea 2015' will Feature Live Painting of World-renowned Graffiti Artist Alec Monopoly
- Ultra Korea 2015, The best music festival with unrivalled lineup and production features, opens today
- World-famous graffiti artist Alec Monopoly' live painting turn Ultra Korea 2015 into a complex cultural event
- Strict prevention and safety precautions to keep MERS at bay during the festival
- Ultra Korea 2015 to unveil 4 mega stages such as main, live, underground and magic beach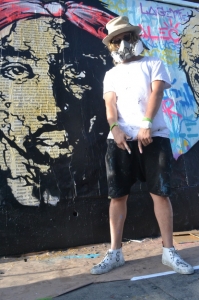 SEOUL--(Korea Newswire) June 12, 2015 -- Ultra Music Festival Korea 2015(
www.umfkorea.com
) kicks off on June 12(Friday) for two days with fanfare.
Ultra Korea 2015 has promised to offer amazing performances with unparalleled lineup and has already unveiled fantastic performance on three stages such as main stage, live stage, and underground stage.
The attention-grabber magic beach stage features rebranded image of Ultra Korea 2015 incorporating totally new concept. The stage props and sand beach reminiscent of tropical seashore are expected to blend fantastically with tropical house and disco artists on magic beach stage.
Magic beach stage to present special art works of world-famous graffiti artist
Ultra Korea 2015 has much more to surprise the visitors. Alec Monopoly, one of the most noteworthy graffiti artists worldwide, will present a special graffiti installation to add fantastic ambience to Magic Beach stage of Ultra Korea 2015.
Los Angeles-based Alec Monopoly is well-known for his satirical use of cartoon characters including The Monopoly Man and Richie Rich. His works have been covered by famous media including Wall Street Journal, Forbes, New York Post, Billboard, and Rolling Stone.
Alec has collaborated with some of the biggest names in Music including AVICII, Madonna, Afrojack and Justin Beiber. Alec Monopoly, who often appears in public with his face hidden behind a stylish scarf, will present live painting from June 12(Fri.) to 13(Sat.) during Ultra Korea 2015, transforming the magic beach stage into even more fantastic and unrealistic space.
Meanwhile, Ultra Korea 2015 which will feature the world-famous graffiti artist Alec Monopoly is expected to turn itself into a complex cultural event presenting arts of more wide-ranging fields including music.
A limited number of tickets are still available at the site for Ultra Korea 2015 which will run for two days from June 12(Fri.) to 13(Sat.) presenting about 80 artist teams with global fame, including Hardwell, David Guetta, Skrillex, Knife Party, Porter Robinson, Snoop Dogg, CL, 2manydjs. (Contact: 1544-1681)
News Source: PR GATE
Korea Newswire distributes press releases to thousands of news media, internet portals across Korea and around the world.
submit a press release »