Jan 21, 2015 06:00 Asia/Seoul Time Zone
O HUI Launches 'Beautiful Lips' Campaign to Deliver Beautiful Messages with Digital Lipstick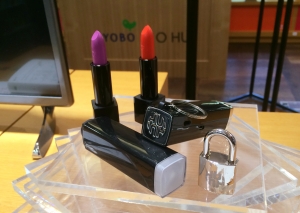 Beautiful Lips campaign of O HUI is designed to send beautiful messages to loved ones using Digital Lipstick, developed in collaboration with beauty and digital
SEOUL--(Korea Newswire) January 21, 2015 -- O HUI, Korea's leading cosmetics brand (K-Beauty) of LG Household & Healthcare (KRX:051900), launched 'Beautiful Lips' campaign with the aim of delivering beautiful messages to the loved ones with 'Digital Lipstick.'
Sincere and beautiful words make your loved ones pleasant. 'Beautiful Lips' campaign is designed to send beautiful messages to loved ones using Digital Lipstick, developed in collaboration with beauty and digital.
Lipsticks, which add beautiful colors to the lips, have been reborn as a messenger of beautiful and heart touching words.
Digital Lipstick is a lipstick-shaped recorder. It comes in a package of two lipsticks. Couples can share one lipstick each and use it as a recorder. In addition, when they record their messages to one another and put the two lipsticks together, LED lamp blinks in the color of the lipsticks and plays the recorded voices.
O HUI released a video clip capturing emotional moments of lovers that became estranged from one another falling back into love with Digital Lipstick.
Watch YouTube Clip:
http://www.youtube.com/watch?v=9kDnEbNa4A4
Also, O HUI is holding online and offline exhibitions to present messages recorded with Digital Lipstick. Visitors can listen to the beautiful words recorded personally by eleven acclaimed writers including Bernard Werber, Hirano Keiichiro and Sister Lee Hae-in.
In addition, O HUI is holding an event of sending the loved ones beautiful messages through 'Lipstick Calligraphy.' Customers can receive cards written out in calligraphy using lipstick.
About O HUI
LG Household & Healthcare's cosmetics brand O HUI is Korea's leading brand that opened Korea's prestigious cosmetics market in 1997. Under the philosophy of 'Pursuing new and pleasant changes and bring about changes not only in the skin, but also in life,' O HUI is developing skincare and makeup products aimed for changes in women's lives as well as in their skin. For more information about O HUI, visit
http://www.ohui.co.kr/en/main.jsp
Korea Newswire distributes press releases to thousands of news media, internet portals across Korea and around the world.
submit a press release »