Nov 20, 2014 10:48 Asia/Seoul Time Zone
Seoul City Presents Run@Seoul Week for Global Citizens
- Seoul Metropolitan Government invites global citizens to participate in interactive campaign to give missions to the runners so they can accomplish various missions given and deliver lively images of Seoul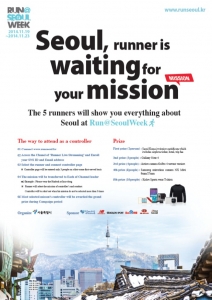 SEOUL--(Korea Newswire) November 20, 2014 -- Seoul Metropolitan Government has launched a global marketing campaign titled 'Run@Seoul Week' over a five-day period from November 19th to 23rd. The campaign has been designed to allow global citizens to visit Seoul and accomplish missions of finding attractions in Seoul.
Run@Seoul Week has been arranged as a part of Seoul's ongoing campaign called Seoul, My [ ] that continues the participation of global citizen. If last year's project was designed to convey different global citizens' appreciation of Seoul through a movie, this year's event is designed to promote the dynamic and lively images of Seoul through global citizens' interactive participation.
Five global citizens from the United States, China, Japan and Singapore have been selected as 'Runners.' During the campaign period, the runners will travel through Seoul, carrying out different missions that are given out by 'Controllers' from all over the world.
Activities of a runner will be recorded via an action camera installed on his or her body and will be broadcasted live on the campaign website (
http://www.runseoul.kr
). The content may be viewed on the live channel with the preferred language selected from English, Chinese and Japanese.
Controllers from all over the world will give real-time missions to the runners on their preferred language channel, and all global citizens watching the live video stream can indirectly enjoy the images of Seoul.
The controllers who give the best missions to the runners during the campaign period will have a chance to win various prizes, including a round trip flight ticket to Seoul, Samsung Galaxy Note 4, action camera, digital camera and t-shirts.
Seoul Metropolitan Government stated "The current trend shown by global tourists visiting Seoul seems to go beyond merely visiting the conventional tourist attractions. They actually prefer first-hand tourism through which they can personally experience the daily lives of Seoul citizens, such as going shopping, eating and watching performances. We hope that 'Run@Seoul Week' can be an opportunity for global citizens to newly discover Seoul's attractions and share its beauty with others, by participating directly in the scene or indirectly online."
Jang Hyuk and Kim Yoo-jung, leading stars of Hallyu, also known as the Korean Wave, have been appointed as 2014 Seoul Global Tourism Ambassadors, and they will participate in various meaningful activities with the global runners during the campaign period.
About The Run@Seoul Campaign:
After five runners have been selected among global citizens who love Seoul and want to visit the Korean capital city, global citizens will give missions to the runners about where they would like to visit and what they want to do in Seoul. The missions will be broadcasted live on the microsite via the runners' live action cameras.
Campaign website:
http://www.runseoul.kr
How to participate: Any global citizens who love Seoul and are interested in Korean culture can participate as controllers via
www.runseoul.kr
.
Run@Seoul Campaign Live Video Stream Time Schedule (KST: Korea Standard Time)
19(Wed)13:00~18:00
20(Thu) 10:00~18:00
21(Fri) 14:00~20:00
22(Sat) 13:00~19:00
23(Sun) 09:00~15:00
News Source: Seoul Metropolitan Government
Media Contact
Seoul Metropolitan Government
Press Relations
Peter E. Kim
Office: +82-2-2133-6244
Korea Newswire distributes press releases to thousands of news media, internet portals across Korea and around the world.
submit a press release »