Aug 05, 2014 15:55 Asia/Seoul Time Zone
Architects of 'TAEKWONDOWON' Michael Manfredi and Marion Weiss Receive Special Recognition from the OFFICIAL TAEKWONDO HALL OF FAME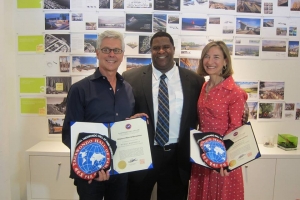 Architects of 'TAEKWONDOWON' Michael Manfredi and Marion Weiss Receive Special Recognition from the OFFICIAL TAEKWONDO HALL OF FAME
NEW YORK --(Korea Newswire) August 5, 2014 -- Marion Weiss and Michael Mandredi who were awarded first prize for their architectural design which was used to construct the Taekwondo Park / TAEKWONDOWON in South Korea recently received special recognition from the Official TAEKWONDO HALL OF FAME at their offices in New York.
Their citations read as follows: "Who through the use of (his / her) architectural knowledge and skill infused the natural landscape of the Muju region with the martial art of Taekwondo and culture of South Korea to create the unique venue known as Taekwondo Park / TAEKWONDOWON.
The unparalleled contribution to the global Taekwondo community made by (named) via the field of architecture captures the "indomitable spirit" of Taekwondo, and serves as a shining example of the boundless nature of human creativity and excellence."
At the conclusion of the presentation the honorees presented Gerard Robbins, founder of the Official Taekwondo Hall of Fame and other members of the organization with books which displayed the numerous projects WEISS / MANFREDI had completed over the years. There was also a discussion about the possibility of building a Taekwondo museum in the United States.
visit the Taekwondo Hall of Fame Facebook page at:
https://www.facebook.com/taekwondohalloffame
Media Contact
Gerard Robbins
TAEKWONDO HALL OF FAME ®
+1 973 919 5464
TKDHOF@GMAIL.com
Korea Newswire distributes press releases to thousands of news media, internet portals across Korea and around the world.
submit a press release »