Jan 15, 2014 11:07 Asia/Seoul Time Zone
Incheon International Airport's AIRSTAR Avenue Honored with 'World's Best Duty Free Shop' for Fourth Consecutive Year
- AIRSTAR Avenue was selected as the 'World's Best Duty Free Shop' in 2013 by Business Traveler's USA edition
- It firmly positioned as the world's top duty free shop by providing convenient shopping environment in line with Korean Wave trends and differentiated customer services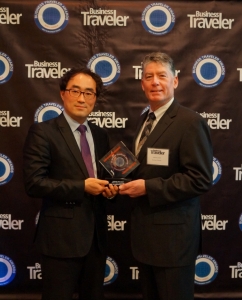 INCHEON, SOUTH KOREA--(Korea Newswire) January 15, 2014 -- AIRSTAR Avenue is reconfirmed as the world's best airport duty free shop in its real sense.
AIRSTAR Avenue (
www.iiacairstar.kr
), the duty free shop complex in the Incheon International Airport, was honored with the 'World's Best Duty Free Shop' at the 25th Business Traveler USA-edition Awards 2013 ceremony held on December 13, 2013 in Los Angeles, receiving the awards for fourth consecutive year.
As the host of the awards, Business Traveler is a leading business travel magazine that has a circulation of more than 500,000 in 11 countries and regions, including the United States, United Kingdom, Asia Pacific and China. And it selects best organizations in 9 areas, including airports and airlines, every year. Given that it publishes about 40% of total circulation of Business Traveler, the USA edition that hosted the awards ceremony is the most influential edition.
AIRSTAR Avenue was selected as the world's best duty free shop in December 2013 by about 40,000 readers of Business Traveler in North America, following its honor with the world's best duty free shop awards chosen by travelers in Asia Pacific and China in September and November 2013, respectively.
As for the reason why Incheon International Airport's duty free shop complex could be recognized in the United States that leads the duty free industry, Business Traveler explained that 'it established shopping space in consideration of efficient traffic line and convenience of travelers, while providing differentiated services in keeping pace with trends, such as Korean Wave'.
In selection for awards, the newly installed shops dedicated to selected made-in-Korea brands that are popular among foreign travelers are reportedly highly evaluated. Particularly, foreign travelers appreciated that AIRSTAR Avenue provided them with extraordinary experiences by arranging Korean culture-oriented institutions at the boarding building of foreign airlines, such as Korean traditional souvenir shops, a Korean culture museum that exhibits national treasure-level cultural properties, and a traditional Korean culture experience center where tourists can take part in making Korean traditional handicrafts.
And, foreign travelers also gave high points to seasonal events and sale promotions that are not found at duty free shops in other countries. In fact, innovative marketing activities of Incheon International Airport's duty free shop complex, such as special events for transfer passengers and contest of best shoppers, are gaining high popularity from foreign tourists.
A manager at AIRSTAR Avenue said, "The Incheon International Airport has grown as a representative global hub airport that accommodates 40 million travelers and 7.06 million transfer passengers a year, by growing 6.4% annually on average in number of passengers since its opening. We are happy that awards we recently received consecutively are acknowledgement of brand competitiveness and outstanding operation knowhow of Incheon International Airport's duty free shop complex. In 2014, we will make greater takeoff by exerting concerted effort to win the bidding for selecting new duty free shops, and by suggesting new strategy for arranging new commercial facilities at the second passenger terminal of the Airport set to be completed by 2017."
News Source: AIRSTAR Avenue
Korea Newswire distributes press releases to thousands of news media, internet portals across Korea and around the world.
submit a press release »