Jan 03, 2014 17:58 Asia/Seoul Time Zone
Power Plaza obtained the Korea's homologation as a commercial electric pickup truck at the end of 2013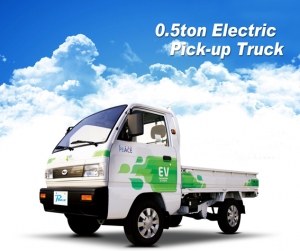 SEOUL--(Korea Newswire) January 3, 2014 -- Power Plaza Co., Ltd (President Kim Sung Ho) passed homologation (safety certification) for light commercial Electric Vehicle (EV, conversion electric vehicle) for the first time in Korea. The vehicle passed at this time is a brand name "PEACE", an electric pickup truck which is based on GM "LABO" frame.
The safety performance assessment starts from at the end of May 2013 at KATRI (Korea Automobile Testing & Research Institute) which is located in Gyeonggi-do, Hwaseong-si. The assessment starts with technical review, and 5 category factors which is revised by conversion including a battery safety and EMC has performed. At the end of Dec. 2013, PEACE passed all of the safety tests with the last assessment EMC (Electromagnetic Compatibility), and PEACE rated as all categories suitable.
Conversion EV is the vehicle that changed engine and fuel oil system of internal combustion engine car and electric power train (electric motor and battery), and it is not yet popular in South KOREA, but the electric conversion vehicle is drawing much interest in European countries from the no carbon emission and recycling of resources view.
The electronic pickup truck "PEACE" is designed for driving within a certain area, especially, the mounted manual transmission is considered economically feasible.
This homologation is one of the long-cherished dream in medium and small-sized enterprises in South KOREA. Among the many companies who tried to conversion EV, Power Plaza obtained the certification for the first time in South Korea.
The test was performed for the battery safety, brake performance safety, steering safety, EMC (Electromagnetic Compatibility) and etc. For the battery test which is the most critical test in the EV, a total 7 category tests was performed including drop, submergence and combustion test.
With this homologation, "PEACE" is considered "hope" for small medium sized business people as a first conversion electric pickup truck.
PEACE(electric pick-up truck) Performance
- Max speed[km/h] 95
- Max. horsepower[ps] 35
- Motor Max. Output[kW] 28
- Battery Type/Capacity[kWh] Lithium-ion/18
- Intake[kg] 500
News Source: Power Plaza
Korea Newswire distributes press releases to thousands of news media, internet portals across Korea and around the world.
submit a press release »