Sep 16, 2013 12:01 Asia/Seoul Time Zone
TETRA PAK'S JOINT ENVIRONMENTAL CAMPAIGN WITH SEOUL CITY NAMED "ECO LOVE", IN TIME FOR THEIR 30TH ESTABLISHMENT ANNIVERSARY IN KOREA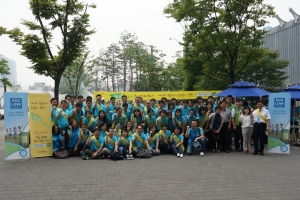 Eco Love, Tetra Pak's joint environmental campaign with Seoul City, turns out to be a resounding success
SEOUL--(Korea Newswire) September 16, 2013 -- The Korean subsidiary of Tetra Pak®, the world leader in providing processing and packaging solutions for food and beverages, (president: Chris Kenneally) announced on September 10 that the company successfully carried out an environmental campaign, Eco Love, jointly with the Seoul City Government in celebration of the 30th anniversary of the founding of Tetra Pak Korea.
The campaign was launched as part of the Agreement on Cooperation to Counter Climate Change and Promote Community Participation that Tetra Pak Korea signed with Seoul City in July this year, for the first time as a global company, and also involved the Mapo-gu District Office, Sangam-dong Neighbourhood Office, and Nanji Culture Centre as partners in addition to Seoul City. All employees of Tetra Pak Korea also rolled up their sleeves for the campaign.
Upholding its motto, "PROTECTS WHAT'S GOOD," Tetra Pak has been doing its best to be socially responsible in Korea by helping provide safe food and beverages and taking the lead in the protection of the environment for the past 30 years since it established a Korean subsidiary back in 1983," says Chris Kenneally, president of Tetra Pak Korea. "This campaign marks a milestone for Tetra Pak in continuing with various activities for the environment together with the local communities it operates in."
In order to raise environmental awareness among the Seoulites, the campaign featured the story of Nanjido, which symbolizes the restoration of an ecological system in Korea and was conducted in and around the Sangam-dong neighbourhood including Samdong Boy's Town, senior citizen's centres, the Digital Media City (DMC), Peace Park within World Cup Park, the Nanjido Story Centre, and the Seoul Energy Dream Centre (SEDC). All executives and employees of Tetra Pak Korea handed out Eco Bags (bags specially made for the campaign), leaflets (which contains Tetra Pak's environment-friendly message), and paper tissue packs (which were made by recycling paper from Tetra Pak packages). There was also a session for the Seoul City Government's Climate and Environment Headquarters to promote its concept of "Eco Mileage." The campaign garnered fervent response from citizens.
In accordance with the Agreement on Cooperation to Counter Climate Change and Promote Community Participation that it inked with the Seoul City Government, Tetra Pak will cooperate with Seoul City to bolster recycling of resources, cultivation of "Green Leaders," and proceed with a campaign to promote "Eco-Love" communities.
ABOUT TETRA PAK
Tetra Pak is the world's leading food processing and packaging solutions company. Working closely with our customers and suppliers, we provide safe, innovative and environmentally sound products that each day meet the needs of hundreds of millions of people in more than 170 countries around the world. With more than 23 000 employees based in over 85 countries, we believe in responsible industry leadership and a sustainable approach to business. Our motto, "PROTECTS WHAT'S GOOD™," reflects our vision to make food safe and available, everywhere. More information about Tetra Pak is available at
www.tetrapak.com
Korea Newswire distributes press releases to thousands of news media, internet portals across Korea and around the world.
submit a press release »