Jul 31, 2013 14:20 Asia/Seoul Time Zone
KOHI successfully concluded 'Competency Enhancement of Diagnosis and Treatment of Autism Spectrum Disorder for child in Bangladesh' Program With KOICA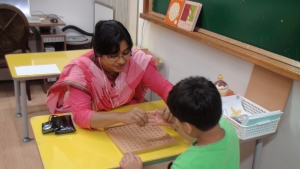 CHEONGWON--(Korea Newswire) July 31, 2013 -- Korea Human Resource Development Institute for Health and Welfare, KOHI (President; Lee Sangyong) successfully concluded 'Multi-year Competency Enhancement of Diagnosis and Treatment of Autism Spectrum Disorder for Child in Bangladesh' with KOICA. 15 health professionals, therapists, and psychologists, special education teacher from Ministry of social welfare, ministry of health and family affair, and Bangabandhu Sheikh Mujib Medical University(BSMMU), Autism Welfare Foundation(AWF), and Center for the Rehabilitation of the Paralyzed(CRP), Bangladesh participated in the course from 18th July to 3rd August in 2013.
The course was designed to focus on treatment and diagnosis of Autism Spectrum Disorder. Lecturers from Dr. Shin's Child and Adolescent Psychiatry Clinic, Seoul MetroPolitan Children's Hospital Child psychiatry, Miral School, and Ewha University delivered quality lectures to the participants. Participants also visited Seoul Metropolitan Children's Hospital, Miral School, Gangnam-gu Vocational Training Center and Goodwill Foundation to see and learn the programs and projects for Autistic Children in Korea.
Korea Human Resource Development Institute for Health & Welfare is an affiliated agency of the Ministry of Health and Welfare that provides education and training for domestic and international public officials and personnel in the health and welfare sectors. KOHI runs various International fellowship programs, including Maternal and Child Health Promotion, Health Policy and Program Management, and Community Health Development to improve the world's health.
Contact : International cooperation, Division of Health Education(☎ 82-43-710-9291, 9290)
News Source: KOHI
Korea Newswire distributes press releases to thousands of news media, internet portals across Korea and around the world.
submit a press release »