Jul 30, 2013 09:58 Asia/Seoul Time Zone
KOHI successfully concluded 'Maternal and Child Health Promotion Program for Latin America'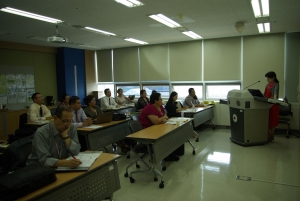 CHANGWON--(Korea Newswire) July 30, 2013 -- Korea Human Resource Development Institute for Health and Welfare, KOHI (President; Lee Sangyong) successfully concluded 'Maternal and Child Health Promotion Program for Latin America' cooperated with KOICA. 15 health professionals who are in charge of maternal and child healthcare from El Salvador, Ecuador and Guatemala participated in the course from 7th to 27th of July 2013.
The program is one of KOICA multi-years fellowship programs and aims to train the health workforce for maternal and child health promotion sustainably until 2014. In this year as a second year program, it included workshops at the site and development of education tools for improvement of maternal and child health as well as invitation training.
This program was anticipated to help decrease Maternal Mortality Rate(MMR) and Teenager Pregnancy Rate which were chosen as on of the Millenium Development Goals. Program fellows visited Public Health Center, Maternal and Child Health Center, Public Prosecutors' Office, Middle School, Severance Hospital, Korean Medicine Clinic, Postpartum Care Center and so on to understand Korea's Maternal and Child Health system. They also visited Yongkungsa, Haeundae Beach, Nurimaru APEC House, Suncheon Nakan Town and Suncheon Bay Garden Expo 2013 to experience Korea's industry and culture.
"I am very satisfied with this year's program which were specialized more on teenager sex problems. Though last year's program was nutritious for us, but all the subjects become deeper in this year's program. I feel enthusiastic to put these newly acquired ideas from the course for development of my country." said Mr. Gustavo Adolfo Batres Cerezo, a coordinator at Ministry of Health and Welfare, Guatemala. "The best objective of this year's program is to make the participants to be empathic to their teenagers and can create more teenager & women-friendly strategies in MCH. For achieving this, I tried to be more sincere in dealing with this somewhat uncomfortable problems!" commented professor Jinhak Kim, who is the program instructor of this 3-years' MCH promotion program.
KOHI runs various programs, including Population and Reproductive Health, Health Finance and Insurance System, and Community Health Development to promote the world's health.
* KOHI :
Korea Human Resource Development Institute for Health & Welfare is an affiliated agency of the Ministry of Health and Welfare that provides education and training for domestic and international public officials and personnel in the health and welfare sectors.
※ Contact : 82-43-710-9291, 9280 (International cooperation, Division of Health Education)
News Source: KOHI
Korea Newswire distributes press releases to thousands of news media, internet portals across Korea and around the world.
submit a press release »