Dec 10, 2012 14:31 Asia/Seoul Time Zone
Williams Crowned Four-Time World Champion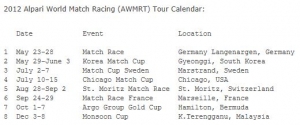 KUALA TERENGGANU, MALAYSIA--(Korea Newswire) December 10, 2012 -- Ian Williams won a record-equalling fourth ISAF Match Racing World Championship today after beating his arch rival Bjorn Hansen in the Quarter-Final of the Monsoon Cup, the finale of the Alpari World Match Racing Tour.
Williams has equalled the record of Peter Gilmour (AUS) YANMAR Racing, who had earlier this week announced his intention to retire after this event. Reflecting on his feat, Williams, said: "It's incredible to match Peter Gilmour on four world titles... it's indescribable really. The knees were turned to jelly [in the first race] and it showed in our sailing. The guys did a great job of keeping me calm and re-focused. When we relaxed it was very hard for him to beat us. It's been a great season - we've made six of seven semi-finals in the regattas we've competed in."
Gilmour's decision to retire gives Williams (GBR) GAC Pindar the opportunity to take the record next season with a fifth Tour title: "He's [Peter Gilmour] such a legend in the sport and now I really feel we can go on and win some more. We'll look forward the latter stages here then look at doing it all again in 2013."
William's opponent, Bjorn Hansen (SWE) Mekonomen Sailing Team, came through the Qualifying stage in second and chose to face his fierce rival instead of several other, lower ranked options. Hansen held a superior head-to-head record against his British challenger in the knockout stages of the previous seven Tour events in 2012 but may not have accounted for the strength of Williams at the biggest event of the year.
The World Championship defining match started well for the Swede as he recovered from an unforced error in the prestart by making the most of a big left shift in the first upwind. Having cleared his penalty on the second leg, Hansen maintained a six boat length lead to win the first match.
The errors continued for Hansen in the second match as he failed to enter the prestart area correctly resulting in a penalty. That was compounded by a second infringement, when he touched the top mark which forced him to take an immediate penalty turn. Unable to recover in that match, and losing out in the third, left him 2-1 down, with Williams on World Championship point, and seemingly not feeling the pressure of the occasion.
Williams led throughout the fourth and final match, although numerous spirited challenges by Hansen kept things close all the way to the finish line. A last throw of the dice by Hansen saw the Mekonomen Sailing Team split away to the left which had paid dividends for Williams earlier. It looked as though Hansen might have the boat speed to achieve an unlikely comeback, but ultimately Williams closed out the tie to progress to the event Semi Final and take the prestigious Alpari World Match Racing Tour title.
Hansen reflected on the event and his closest ever World Championship campaign, saying: "There's never been a Swedish crew this close to the title so we're very proud of what we've achieved.
"We didn't sail at the top of our skill level, we're disappointed about that. Ian was best over four matches and I just congratulate their team.
"We took the decision to pick Ian and the crew agreed on that. I definitely don't regret that and we knew if we lost it we'd be out of the Championship race but we wanted to fight for the gold and felt good about it."
In another twist of fate, David Gilmour (AUS) Team Gilmour managed to edge into the final eight, taking precious wins against Laurie Jury (NZL) Kiwi Match Sailing Team and Pierre-Antoine Morvan (FRA) Vannes Agglo Sailing Team. David Gilmour's reward was a match-up against top qualifier and father, Peter Gilmour, who dramatically picked his son and went on to knock him out of the competition at the Quarter Final stage.
Peter Gilmour reacted to another exciting day of competition, saying: "It was a bitter sweet victory against David. We practiced together coming into the event and for them to end up in the Quarter Final is an achievement.
"If he wasn't facing us in the Quarter Final, it would've been Bjorn or Ian so the idea was to try and engineer getting one of those knocked out as I knew Bjorn would pick Ian. That would allow us to hopefully get us higher up the tour rankings."
Describing a manoeuvre in the second match prestart, Gilmour Senior suggests that things could have easily not gone as planned in the family battle. Aggressive luffing from the youngster earned him a penalty but also left his father stationary and head-to-wind. With a comprehensive lead, it was Gilmour Junior's for the taking but a tactical mistake opened the door for his father. Gilmour Senior was not going to miss it and seized the advantage to open up an unassailable lead and with it a second point. Peter Gilmour said: "At 1-0 up and with us going backwards in the second race they had a real opportunity but their inexperience came in. We got a great puff and mixed with some bad decisions on their part, we're suddenly back in it."
Commenting on his recent announcement, he joked: "If we win the Monson Cup, I kind of wonder how you go about retiring!"
Phil Robertson (NZL) WAKA Racing and Taylor Canfield (USVI) USone also progressed to the Monsoon Cup Semi Final after winning their respective Quarter Finals against Pierre-Antoine Morvan (3-1) and Keith Swinton (AUS) Black Swan Racing (3-1).
The Semi Finals and Final will take place on Saturday 8th December.
Racing is available to watch online throughout the day. Follow it live at
http://www.wmrt.com/live.html
.
Highlight shows from the season's seven previous events are available to watch at
http://www.youtube.com/worldmrt
Monsoon Cup action will be broadcast live to TV at 1500-1700 local time. For listings in your region, visit:
http://www.wmrt.com/live/tv-schedule.html
Tour regular Twitter feed:
http://www.twitter.com/wmrt
Live event Twitter feed:
http://www.twitter.com/wmrt_liverace
Livestream Video:
http://new.livestream.com/WorldMRT
Current Tour standings:
http://www.wmrt.com/result/leaderboard.html
Monsoon Cup - Quarter Final Results:
Peter Gilmour (AUS) YANMAR Racing beat David Gilmour (AUS) Team Gilmour 3-1
Ian Williams (GBR) GAC Pindar beat Bjorn Hansen (SWE) Mekonomen Sailing Team 3-1
Taylor Canfield (ISV) USone beat Keith Swinton (AUS) Black Swan Racing 3-1
Phil Robertson (NZL) WAKA Racing beat Pierre-Antoine Morvan (FRA) Vannes Agglo Sailing Team 3-2
Monsoon Cup - Final Qualifying Table:
Peter Gilmour (AUS) YANMAR Racing 8-3
Bjorn Hansen (SWE) Mekonomen Sailing Team 7-4
Keith Swinton (AUS) Black Swan Racing 7-4
Taylor Canfield (ISV) USone 7-4
Phil Robertson (NZL) WAKA Racing 7-4
Ian Williams (GBR) GAC Pindar 7-4
Pierre-Antoine Morvan (FRA) Vannes Agglo Sailing Team 6-5
David Gilmour (AUS) Team Gilmour 6-5
Adam Minoprio (NZL) Alpari Racing Team 6-5
Laurie Jury (NZL) Kiwi Match Sailing Team 3-8
Johnie Berntsson (SWE) Berntsson Sailing Team 2-9
Jeremy Koo (MYS) KFC Malaysia/KRT 0-11
The Alpari World Match Racing Tour (AWMRT) is the leading professional sailing series featuring eight World Championship events across the globe, sanctioned by the International Sailing Federation (ISAF) with "Special Event" status. The World Tour awards over US$1.75million in prize money with points awarded at each event culminating in the crowning of the "ISAF Match Racing World Champion". The prize fund includes a US$500,000 overall prize pool for the top nine teams in the Championship. Events take place in identically supplied racing yachts to place the focus on team work and skill. Racing takes place close to the shore so that spectators and fans can follow the racing in a virtual on the-water stadium. Media and television highlights coverage reaches in excess of 183 countries around the world. For more information, visit
www.wmrt.com
.
About Alpari
With a history dating back to 1998, the Alpari companies are among the world's fastest growing providers of online Forex trading services. The companies provide cutting edge technology, low-cost trading, comprehensive market research tools, advanced educational programmes and world-class customer service. The association of Alpari companies has offices in over 20 countries. Locations include London, New York, Tokyo, Shanghai, Dubai, Moscow, Mumbai and Frankfurt. Combined, the companies look after over 170,000 active trading accounts, generating monthly trading volumes in excess of USD210 billion and employ over 630 people worldwide (as of May 2011).
News Source: Alpari World Match Racing Tour
Media Contact
Audrey Lakai
Alpari World Match Racing Tour (AWMRT)
Tel: +6012 502 2206 (Mobile)
E-mail: audreylakai@wmrt.com
Korea Newswire distributes press releases to thousands of news media, internet portals across Korea and around the world.
submit a press release »