Aug 19, 2012 11:05 Asia/Seoul Time Zone
The 'Unification Declaration' for Korea Issued By Global Peacemakers in Seoul, Korea
- The closing session of 'Global Peace Festival Korea 2012' hosted by the Global Peace Festival Foundation (GPFF)
- Global Peacemakers gathered in Seoul to issue the 'Unification Declaration' to present their resolution to contribute to Korea's unification.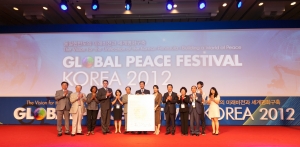 서울--(Korea Newswire) August 19, 2012 -- The 'Global Peace Festival Korea 2012' was held at the Grand Hilton in Seoul, Korea, co-hosted by the Global Peace Festival Foundation (Chairman Hyun Jin Moon), Congressmen Sung-tae Kim, Ki-un Bae, Myung-chul Cho, Young-gyo Seo, Joo-hong Hwang. From August 17th to 18th, 300 supporters of Korea from around the world discussed various approaches for Korea's unification and its impact on global peace.
Choong-hwan Kim, the former president of the Foreign Affairs, Trade and Unification Committee, Eva Latham President of Human Rights Teaching International and United States Congressman Michael Honda showed their support for the declaration, recognizing that the peaceful unification of Korea is the cornerstone for global peace. The expressed the importance of building a unified Korea that transcends opposing and conflicting ideologies and factions.
Chairman of GPFF, which co-hosted the event, Hyun Jin Moon, emphasized that through a grassroots movement for unification, we can present the most effective and safe process for peace and prosperity for Korea and the world. He stated that the 4 principles of Hong-ik Ingan should be the guiding principle for South Korea and should lay the groundwork for the unified Korea.
The main guests who participated in this event include the United States Congressman Eni Faleomavaega who is taking a leading role in the issue of North Korea human rights and comfort women; United States Congressman Michael Honda who has been a leading voice for comfort women including proposing a house resolution on this issue; the first North Korean defector Myung-chul Cho; Dr. Charles Morrison, President of the East-West Center for Cultural Exchange; Dr. Robert Schuller; Cardinal Gaudencio Rosales. Also in attendance were 300 scholars and experts of international security issues from the United States, Russia, Japan and China.
The Global Peace Festival Foundation who co-hosted this event, is a non-profit international civic organization with 23 branches throughout worldwide and has been working extensively in developing nations, supporting their efforts for peace. GPFF is also engaged in think tanks, hosts conferences, and is focused on building sustainable community-driven development. GPFF coordinates social impact programs that contribute to building a global community. It also is involved with training and educating international volunteers and supports international aid and relief activities.
News Source: Korea Global Peace Festival(GPF) Foundation
Media Contact
비즈컴
황재모 과장
02-3676-1527
Korea Newswire distributes press releases to thousands of news media, internet portals across Korea and around the world.
submit a press release »