Aug 18, 2011 15:37 Asia/Seoul Time Zone
World Champions & Pioneers to Attend Historic Taekwondo Hall of Fame Ceremony
- World of Sports Highest Honor "Hall of Fame Award" to be presented to Taekwondo's Elite at KUKKIWON World Taekwondo Headquarters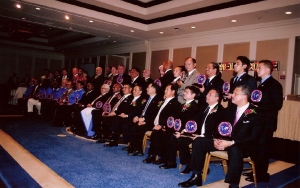 Inaugural ceremony in 2007 in USA pioneers and champions from all over the world.
NEW YORK--(Korea Newswire) August 18, 2011 -- The Official Taekwondo Hall of Fame Awards Ceremony is being held for the first time in Korea at the KUKKIWON World Taekwondo Headquarters.
The awards ceremony commencing at 4:00PM on Thursday August 25, 2011 at the Kukkiwon will feature special guests and honorees from numerous countries, which include Korea, Singapore Hong Kong, Bhutan, Bahrain. Australia, Croatia, Serbia, Slovakia, Afghanistan, Trinidad & Tobago, Malaysia, Brazil, Israel, Argentina, Thailand, Turkey,,United Arab Emirates, Italy, Canada, USA. Lebanon, Pakistan, Nigeria and elsewhere.
"We are making tremendous history because this will be the first ever exclusively martial arts related "Hall of Fame" ceremony is being held on the Asian continent " says Taekwondo Hall of Fame Executive Director Gerard Robbins. Robbins further describes the event as being a "once in a lifetime opportunity" for novice taekwondo students and experienced instructors to greet and mingle with some of the greatest taekwondo champions and masters in the world.
The list of dignitaries and persons being honored which is too large to be mention ncludes Olympic and 4 time World Champion Kuk Hyun Jeong who was listed in the Guiness Book of World Records. Numerous leaders, champions and grand masters from around the globe will be honored at the historic ceremony. Dr. Un Yong Kim former VP of the International Olympic Committee (IOC). Dr. Kim who served simultaneously as president of the World Taekwondo Federation, Korea Taekwondo Association and Kukkiwon during the early years will also be present. Many persons consider Dr. Un Yong Kim to be the person primarily responsible for having Taekwondo included as a sport into the Olympic Games.
A spectacular demonstratyion will be perforned by the elite US Army 2nd Division Taekwondo Demonstration Team.
There is no cost to attend the ceremony at Kukkiwon and and the Taekwondo Hall of Fame is inviting Taekwondo schools and practiioiners throughout South, Korea to attend his once in a lifetime event . The ceremony will begin at 4:00PM.
General public interested in sharing dinner with the honrees at the Samjung Hotel following the ceremony at 7:30PM can purchase tickets on a link at:
www.korea2011.com
. As seating is limited only one table per taekwondo school or organization is being sold.
MEDIA
Television and print Media interested conducting interviews and covering the ceremony should send an email to taekwondohalloffame@yahoo.com or request an application via fax: 001 866 515 8334. Due to limited space media passes will be issued only a limited first come first served basis. Approved Media will receive a complete list of honorees who are confirmed to attend.
FURTHER DETAILS
EVENT: TAEKWONDO HALL OF FAME CEREMONY
DATE: THURSDAY AUGUST 25, 2011
TIME: 4:00PM – 6:00PM
LOCATION: KUKKIWON "WORLD TAEKWONDO HQTS."
MEDIA FAX REQUEST TO ATTEND TO: 001 866-515-8334
Program Schedule:
During the mornings of August 23-25 from 8AM – 11AM the Kukkiwon will provide special training in poomsae and sparring for those persons attending the hall of fame ceremony. The training will be presented by two (2) world reknowned Kukkiwon instructors. In addition 4 time World Champion Kuk Hyun Jeong has agreed to provide tips on sparring. A dinner will follow at Samjung Hotel at 7:30PM where autographs will be signed by the honores.
Short History About The Taekwondo Hall of fame
The Taekwondo Hall of fame has conducted two ceremonies in the past in 2007 and 2009 both in the USA which attracted many of the original pioneers and champions such as former USA Olympic Coach (92) GM Dong Keun Park who himself was the Korean Team Captain who retired undefeated in over 200 matches in the early 60's, GM C.K. Choi first Taesoodo World Champion in the early 60's and pioneers GM Rhee Ki Ha, GMByung Moo Lee, GM Dr Tae Yum Kim,GM Nam Tae Hi, GM Kim Pyung Soo, GM Jhoon Goo Rhee, Mitchell Bobrow who fought movie star Chuck Norris in the 60's, and numerous Olympic and World Champions from around the world. The Taekwondo Hall iof Fame is the only such organization that is supported by all major taekwondo organizations. It's technical advisors are senior members of ITF, WTF and other organizations. The mission statement iof the TKDHIOF is simply "to recognize and honor persons who have significantly impacted on the development, preservation and growth of the martila art / global sport of Taekwondo" The official website can be visited at
www.taekwondohalloffame.com
In addition to Dr. Um Yong Kim this year's honors will be Wong Liang Mmaster ing (Singapore), Kuk Hyun Jeong, Olympic and 4 time World Champion, Dr. Carl Men Ky Ching President of Hong Kong Taekwondo Association, Mr. Milan Kwee, President of Singapore Taekwondo Federation), Master II Joo Kim Pioneer of Taekwondo in the USA, Master Hassan Iskandar President of Australia Taekwondo, GM Linda Park President of Global Taekwon-Do Federation, GM Seri Vibhatavanija, First Natioanal Champion of Thailand, GM Jack Rozinszky Pioneer Instructor of Australia and numerous others.
See photos attached of previous award ceremonies.
Taekwondp schools or businesses wishing to gain exposure by placing an ad in the ceremony evening program should send an email to taekwondohalloffame@yahoo.com
Korea Newswire distributes press releases to thousands of news media, internet portals across Korea and around the world.
submit a press release »