Aug 03, 2011 08:55 Asia/Seoul Time Zone
WISH Company Starts Another Global Social Project "Story About Dream"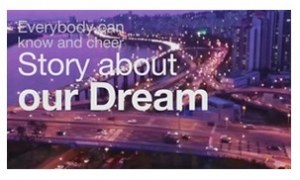 Story about dream
SEOUL--(Korea Newswire) August 3, 2011 -- WISH Company(CEO: SoungHo Park,
www.wishtrend.com
) has collaborated with TicketMonster on a social contribution program WeseeD earlier this year. This July they're on to their second Global social project "Story about Dream", working together with HeeJun Lim and Sebeom Oh, members of KAIST's Culture Technology Post Graduate Program.
In order to participate, one needs to send a short video clip reflecting their dream to either WISH Company's email account (weseed@wishcompany.net) or upload it onto WISH's Vimeo group (
www.vimeo.com/groups/storyaboutdream
).
The deadline is on the 21st of August 2011. The videos submitted will be collected and blended into a new mix which will can be viewed globally on WISH Company's Youtube Channel under the title of "Story about our Dream".
A number of participants will be randomly selected to be gifted Il Kwon Ha's 'Annara Sunamara. Plus, they will be given prioritized participation opportunities in WISH Company's future Social Collaboration projects.
HeeJun Lim, a member of KAIST's Culture Technology Post Graduate Program, proposed the idea. He said, "My high level of interest in social projects led me to designing this project and I wanted to achieve this through the use of visual media. Although video collaborations projects are unfamiliar in Korea, the rest of the world is if one takes a look at successful projects such as 'Life in a day'.
WISH COMPANY's CEO, who's actually executing this project, stated, "The world has become a place where the word 'Dreams' holds an awkward tenor and wishes that WISH Company's new social project can rekindle one's forgotten dreams. With our motto "Dreams grow when they're shared", we intend to create a new land of opportunity, a place where anyone and everyone can share their dreams. We plan on maintaining this project for a long time to join and support with the dreamers in the beauty, fashion and entertainment industry".
For details, visit WISH Company's bulletin (
http://wishcompany.net/372
)
Media Contact
위시컴퍼니
02-3444-3412
Korea Newswire distributes press releases to thousands of news media, internet portals across Korea and around the world.
submit a press release »